modern✻love:
pop art

Artifacts
California Textile "Color Wheel". Wall hanging in excellent condition. Classic.
Awesome set of 3 24 x 24 Acrylic on Foil by Gerhardt Felgemaker entitled, "Finister".  c. 1960′s
Great Mod Acrylic Storage cubes include two open cubes, one with 3 drawers and one with LP storage dividers. Black and Shiny.
Custom framed color abstract silkscreen on thick woven paper. Signed, dated 1967, and numbered 15/75 in graphite on lower margin. B. F. Reves watermark on verso. Overall paper measures approx. 26″ x 20″.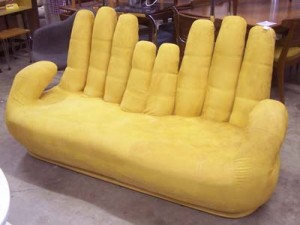 Vintage "Hand" sofa or couch in rich luxurious yellow ultrasuede.  Super Pop Art statement.
Classic plaster cast cherubs with the big bulb sockets. these were most likely a permanent install in a commercial location. No shades. 100% working; no rewiring needed.
California Textiles Designer wall hanging. Great colors and strong fabric.